• blog • fanny pack • stadium approved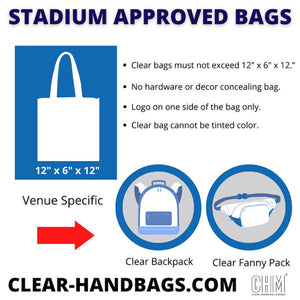 Fanny packs are allowed in some stadiums and concert venues…as long as they are clear. To help you navigate the clear bag policy, below is a list of stadiums and facilities that allow clear fanny packs. If the event you are attending does not allow clear fanny packs, we encourage you to use the standard clear bag size which is 12″ x 6″ x 12″. CLEAR FANNY PACKS ALLOWED STADIUM LIST Click Here To Get Your Fanny Pack University of Notre Dame Clear Bag Policy- Clear Fanny Packs & Clear Backpacks Allowed. Lollapalooza Clear Bag Policy-Small clutch purses and fanny packs...
---
• blog • fanny pack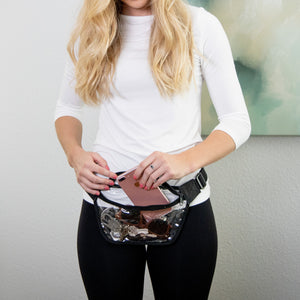 Wherever I go, I get compliments on my clear fanny pack…or as some would call it-a clear waist bag.  Most people are surprised to find out that it is also stadium approved for concerts and events.  Just about everyone asks, "Where did you find it?" Transparent fannypacks are not only practical but match any outfit!  If you haven't had your child wear one while in line at the fair —you should!  Let them carry their own stuff.     They are not only practical for security checkpoints, they also save you from back and shoulder stress. I wear mine on the daily...