Wholesale Clear Bags & Custom Bags
We welcome wholesale orders from qualifying companies, schools, and organizations looking to place bulk orders. All of our products are available for wholesale and most bags allow for logo imprinting. We are in the business of building long-term relationships and welcome custom designs or bulk orders. If your business needs a bag that is not listed on our website, chances are we can still complete your bulk order. Our company not only supplies clear bags, but we also provide other types of bags to different companies based on their individual needs.
Retail stores wishing to resell our high-quality products and meet our resell conditions are also welcome to contact us to set up an account.
We can work with you to create a custom bag in any size, style, or design!
Custom Printed Bags
Promote your business or organization with custom-printed bags.
Any order above 50 pieces can be customized with a logo imprint.
Showcase your logo, brand, or company name.
We offer wholesale fanny packs, bulk tote bags for warehouse employees, security facilities and more.
Learn More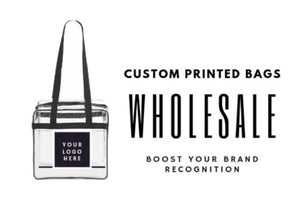 Stadium Approved Bags
We have a wide selection of bags that meet the NFL Committee on Stadium Security guidelines which only allow you to carry your items in a transparent bag no larger than 12 x 12 x 6.
NCAA college football games, CMA Festivals, PGA Tour, baseball and basketball games and other sporting and concert events typically all have see-through bag policies.
Any of our clear backpacks, clear purses, clear crossbody purses, and clear fanny packs might be enough to store a few small items with you. And our crossbody messenger bag is a great Stadium-Approved bag option, as it can be conveniently adjusted to be worn crossbody or as a shoulder bag, whichever is most comfortable for you. But for those that need as much storage room as the policy allows, our selection of plastic tote bags is the perfect answer. Our NFL Stadium Approved Tote Bag with Zipper Closure, Open-Top Stadium Clear Tote Bag, and our Deluxe Crossbody Stadium Clear Tote bag provide plenty of room and are stadium approved.
For the die-hard sports fan, we supply domestic screen-printed, embroidered or heat transferred bags for specific inventory items. In addition to screen printing, embroidery, and heat transfer is done domestically, we offer 4 color process imprinting for certain orders so you can head to the game with your favorite team's logo right on your bag.
Shop Now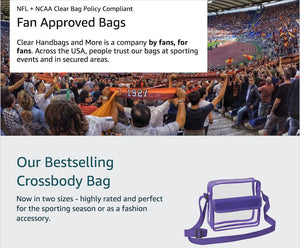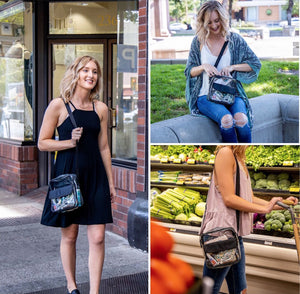 High Fashion Practical Option
Transparency is in vogue and you're in luck! Whether you're looking to stylize your look and carry your belongings with a clear plastic backpack that you can throw over your shoulders, a cute clear purse you can hold in hand, or even a clear fanny pack to wrap around your waist, we have the perfect bag for you.
Just flip through the pages of a gossip magazine or take a walk through the hippest neighborhood near you and the latest trend in handbag fashion will be quite clear - Literally! Everywhere you go, you can spot fashionistas flaunting one of these instantly recognizable transparent handbags.
You might catch a clear crossbody purse on a Paris runway, a clear plastic backpack being carried through a city street, or a vinyl tote bag resting in the shade on a sandy beach; we provide sleek & chic clear bag designs that will be sure to instantly catch admiring eyes.
Our designer-inspired clear handbags and clear purses are some of our best sellers. It's hard not to instantly fall in love with our Clear CrossBody Bag, Clear Satchel Handbag with Black Trim, and our Medium Clear Tote Bag with Zipper Closure; which you can find in Yellow Royal Blue, Turquoise, or Pink Trim. With its streamlined and minimalist look, these vinyl bags and see-through handbags and vinyl purses provide a stylish way to make some bold statements. You are independent enough to buck the trend and fearless enough to put your life on display for the world to see!
Shop Now
Perfect For School
The threat of school violence is an unfortunate reality that we are forced to deal with. To prevent this type of tragedy from striking their classrooms and hallways, more and more schools are starting to implement these same see through-bag policies. Our over-the-shoulders clear backpacks or clear rolling backpacks are stylishly cute options for your children if they attend a school that implements these new policies.
No more last-minute digging inside to make sure they have everything they need for the day. Throw in one of our clear plastic lunch bags, and you'll know whether they ate what you packed for them the moment they walk off the bus.
SHOP NOW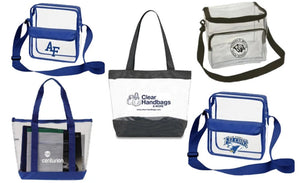 Promotional Gifts & Logo Imprinting
Let's say your company would like to place a large order of tote bags with your company logo, to give away to new customers, valued employees, or as giveaways at your work-sponsored events, for promotional gifts and raising brand awareness. We got you covered!
Our company offers domestic screen-printed, embroidered or heat transferred bags from our inventory, and/or, custom made and decorated bags through our manufacturers. In addition to screen printing, embroidery, and heat transfer done domestically, we offer 4 color process imprinting for certain orders. Our promotional bags are perfect for businesses, organizations, or groups to put a personalized touch.
If you are interested in adding your logo to one of our bags please visit our imprinting page.
Learn More
Clear Bags For Men and Women
We manufacture high-quality transparent bags with a fresh & modern look that men and women can both enjoy. Whether it's needed for work or play, you can browse through our catalog and find plenty of slightly less feminine clear bag designs that appeal to any gender. Check out our Clear Backpack with Black Trim for a sweet & simple bag to carry on your back. The Clear Backpack with Multiple Pockets may be a better choice if you plan a hike in the woods. And if you need additional storage space, you'll surely be content with the Large Sturdy Clear Backpack. You can reach your fitness goals with the help of our Clear Duffel Bag, great for carrying your gym clothes and sneakers in. For the working man, our Large Clear Briefcase and Clear Portfolio Briefcase is a convenient way to transport your office papers and documents in. And for the man on the go, our Rolling Clear Backpack is the perfect travel companion.
SHOP NOW
Durable Products and a Striking Design
As the leading supplier of Clear Bags, we offer a variety of styles and colors to create a large selection of transparent bags for you to choose from. All of our select high-grade bags are designed in the United States and manufactured out of quality transparent PVC, to create durable vinyl bags that are trendy and practical. Those that appreciate excellence through the finest of details will appreciate the same clear & clean lines and high-quality stitching on our smallest transparent purse as they would on our largest see-through briefcases or clear rolling backpacks. We take great pride in our craftsmanship and will back up every single Clear Bag finished product with a 60 day Money Back Guarantee! Founded in 2010 and based in the United States, we provide the highest quality bags (with a limited lifetime warranty) at extremely competitive prices and very fast delivery. Our commitment to producing and providing top-quality products, warm & friendly service, and powerful customer-focused solutions, has earned us a reputation as the easiest company to do business within the industry.
Not only are our products fashionable and trendy; our eye-catching bag catalog is also ideal for correctional facilities, warehouses, and events. We pride ourselves in delivering new concepts in function and style with a focus on meeting the facility security requirements of the workplace, corrections, loss prevention, schools and all public stadium and concert events that adhere to the NFL Clear Bag Policy. When it comes to offering high-quality & high-fashion bags that match your needs, lifestyle, and personality, we have you covered.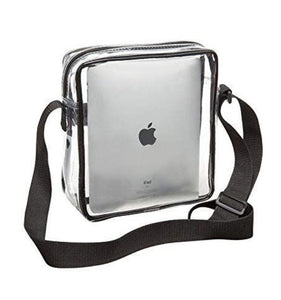 Ideal For Loss Prevention
While the clear-bag policy is becoming more popular with smaller retailers, major department stores have long been utilizing a see-through bag rule for their employees, not only as a security measure against workplace crime but primarily as a form of loss prevention. Our clear fanny packs, clear tote bags, and clear backpacks will allow you a hassle-free way to carry your personal items into work. Without the need to empty out the contents of your bag, our vinyl bags will allow security staff to see everything you have inside.
SHOP NOW
Safer Workplace Option
Due to increasing security concerns over workplace theft, a rising number of companies enforce a clear bag policy as a safety measure for their employees. And some companies or workplace areas are heavily secured as a protection measure against property theft. They may also require transparent purses to be used by their employees. So whether you prefer to use a short-handle carry bag, a long-strap clear purse, or a crossbody purse or messenger bag, among many other types of our handbags, you can certainly find the style and design that you will fall in love with.
Clear Bags for Correctional Facilities, Jails & Prisons
For the safety of inmates and workers and to avoid unlawfully slipping in weapons or tools for escape to the incarcerated, secure centers such as jails and prisons require correction officers and employees to come to work with a clear-bag or no bag at all. We have a selection of tote bags and clear plastic lunch bags to choose from that would be perfect for your facility. Many of our see-through bags meet correctional officer requirements and allows you to easily pass through security checkpoints with very little hassle.
Shop Now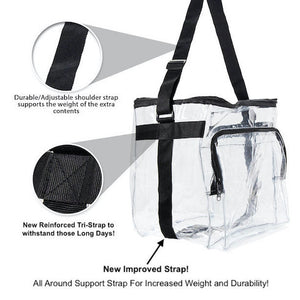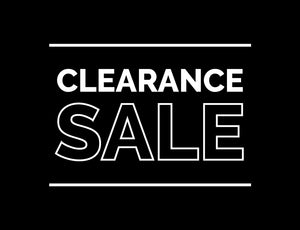 Great deals on clear plastic backpacks, plastic handbags and more. Save big when you order in bulk.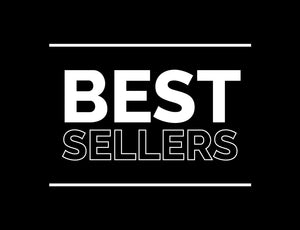 Shop our best seller selection which includes totes, clear crossbody bags, clear lunch bags and more.
Blog
Many fairs have implemented a state fair bag policy. In recent years, fairs have become more cognizant of the need for enhanced security measures, aligning with the practices observed in...